Construction time on site can be reduced to just 4 weeks
per house, thus ensuring vast cost savings.

Quality
Superior Factory Controlled Quality Management

Works
Concurrent Offsite and Onsite Works

Time
Continuity of Supply all Year Round

Saving
Double Traditional Output Resulting in Greater Returns On Capital

Safety
Reduced Onsite Safety Risk
Factory Production
The build system has achieved NSAI Agrément certification and the factory production control system achieved an EN1090-1:2009 certification. These industry leading quality standards form the solid foundations from which MHI units are designed and manufactured for the end user.
The offsite phase even extends to fully mechanically and electrically serviced units rendered with bathrooms and ensuites tiled and kitchens installed as required.  Each module is fully snagged and thoroughly cleaned before it is shrink-wrapped and sealed and ready for delivery.
Loading
Modules are labelled with data identifiers for part, unit type, end site location and other data that can be scanned by both MHI and the end client.
They are then carefully loaded onto transportation units through a high-precision moving and craning process, ready for distribution.
Distribution
Modules are transported using a specialist distribution partner, who arranges permits or escorts from the factory to the development site.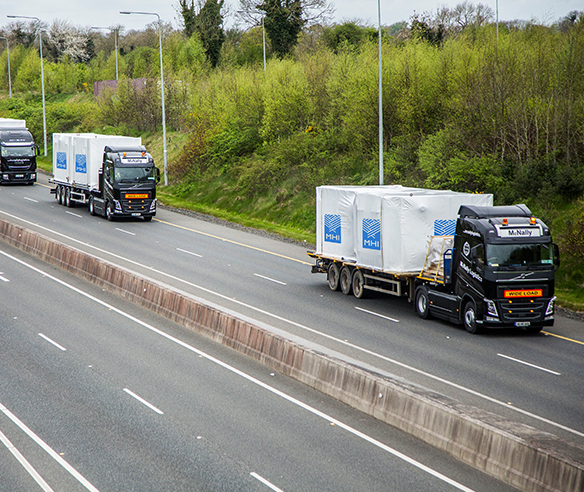 Installation
Modules are connected on-site using specialist lifting mechanisms. Two full residential units, including sealed roofs, can be installed and connected in just one day. This means that just 20% of the construction needs to happen on site.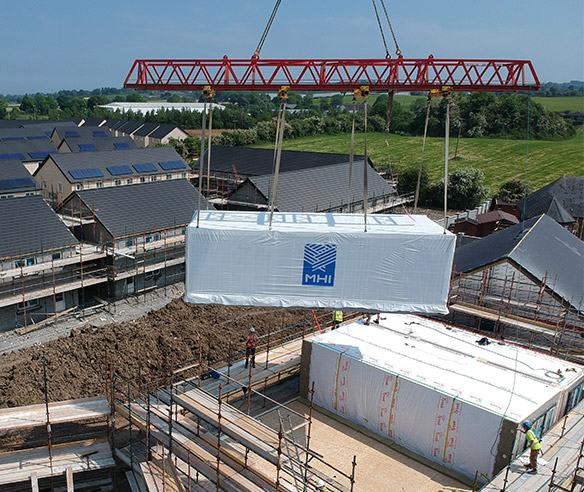 Handover
The completed job offers the end customer a much superior quality dwelling by utilising quality assured standards within a factory environment that can be seen in the completed house.